WebGate is our powerful web interface client which remotely connects to the TrakGate server (either our cloud hosted servers or your own hosted one), providing monitoring of fixed and moving assets. It can be used with any web browser and is fully optimized to be used with touchscreen devices like smartphones/tablets.
Our real-time tracking and fleet management platform is fully customizable and scalable but what really makes it different is that our solution is hardware and network agnostic ! It means that a vast range of different units operating on various network can communicate together and be managed exactly the same way.
In other words, you can for example send a text message from a portable satellite tracker in the North Pole to a group of LMR radios dispatched thousands kilometers away !
---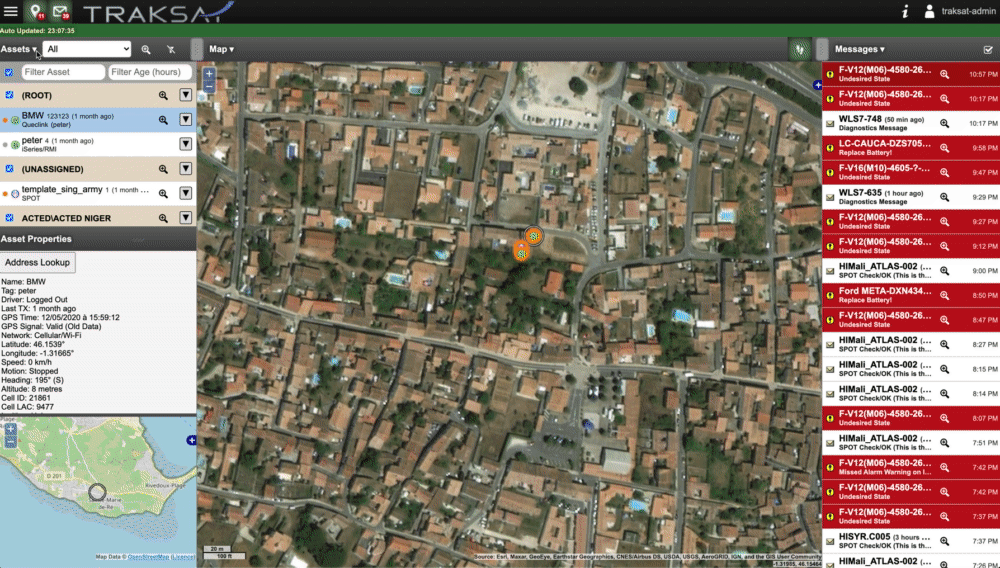 Geofences and P.O.I.
WebGate allows multiple Polygon "Geo-Fences" to be created. Any selected vehicle entering or leaving a fenced area will generate an alert which can be emailed to any address.
We also provides dynamic geo-fencing. This will create an alert when two or more moving assets are within a set distance of each other. Typical applications would be convoy monitoring for example !
When this is not about an area, you can also create some Point of Interest (P.O.I.) and customize them according to your need.
Geofences and P.O.I. can be then used in history reports or in specific mileage calculation or even to locate a specific event next to your own locations database.
---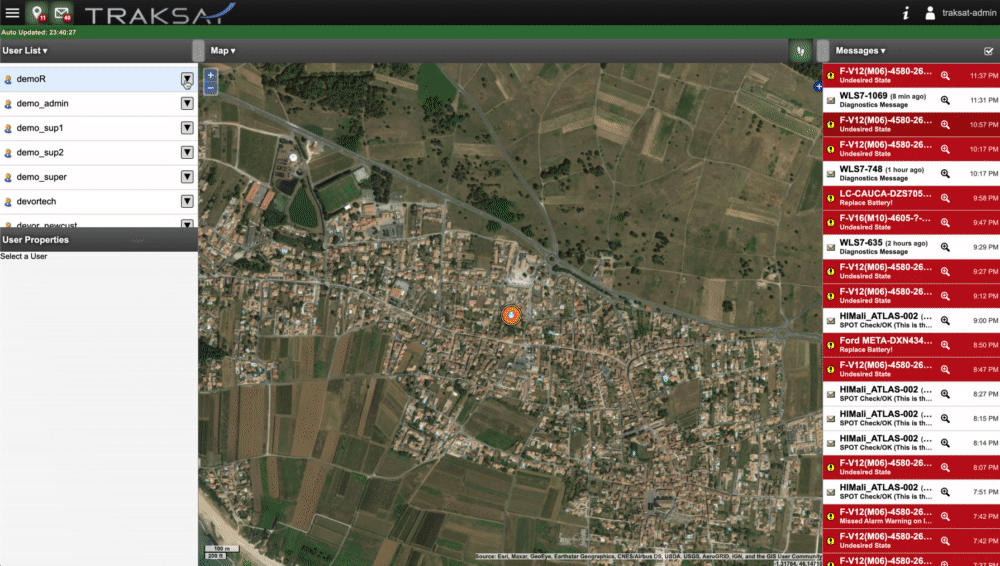 Real-time tracking and alerts
You always have real-time information for every vehicle or assets in your fleet. You can stay updated with alerts and notifications. Geofences and events help automate your workflow. Each output uses your custom rules.
Easily choose what kind of events you want to be notified about and what type of notifications should be forwarded or not to some users by Email or SMS.
Quickly select the assets you need to link to those alerts and manage the high-priority alerts triggering efficiently
---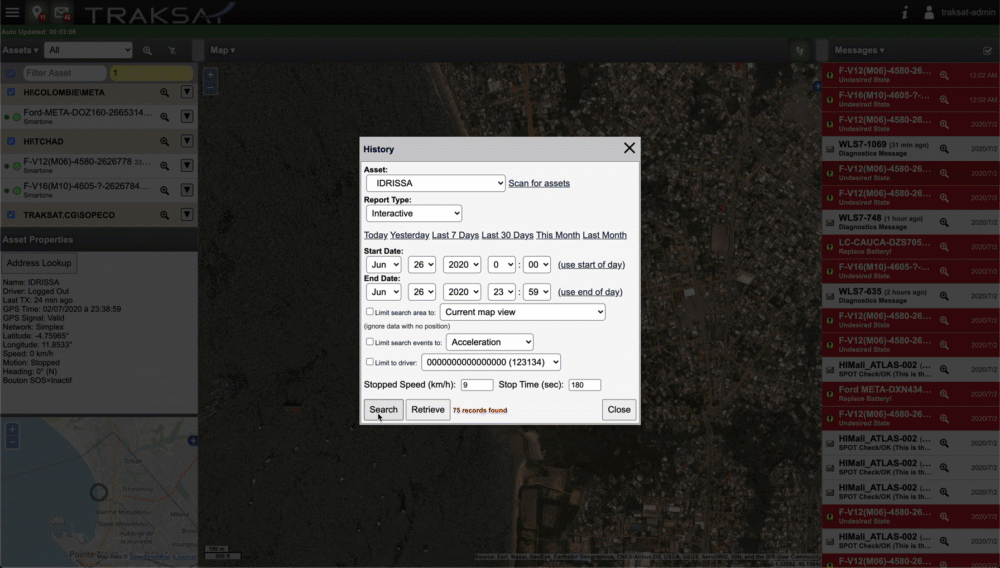 Reporting and History Reports
All the standard reports you need (trip and Idle, time on site, eco-driving scorecard, etc.), and as many custom reports as you want. It's easy to get the right information to the right person at the right time. You can create custom reports for each business role and have them run on your schedule.
---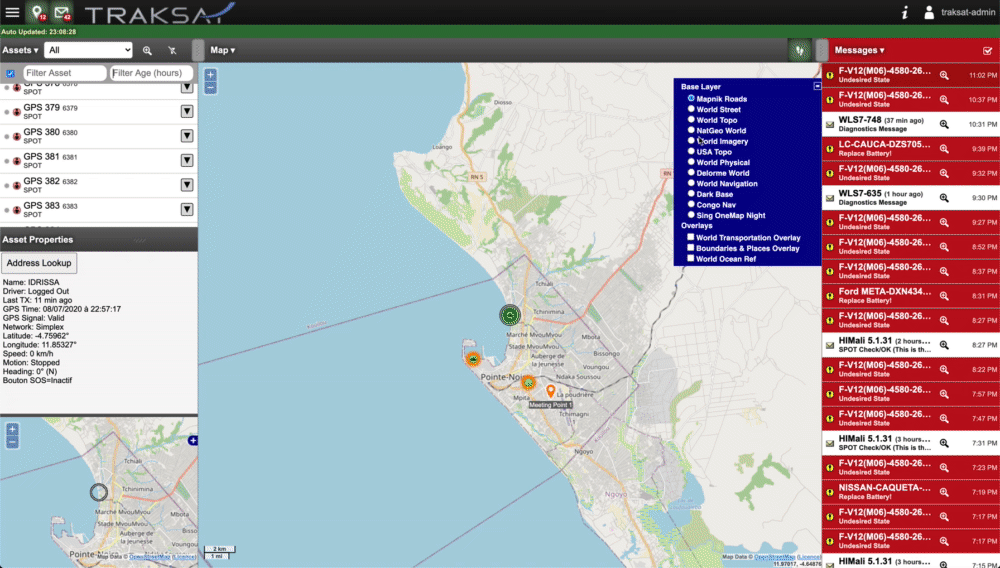 Map Layers and Overlays
We offer a large choice of mapping options etc …
---
Dispatch and Job Management
Managing jobs and field workers is easy with the integrated dispatch feature. You can monitor individual worker's progress and see statistics for the whole fleet. The app lets workers report real-time progress in the field.You always have real-time information for every vehicle in your fleet.
---
Other Features
GPS tracking
Bing, Google, OpenStreetMaps and KML mapping
Polling for asset positions
Emergency alerts
Remote control of asset settings
Historical reports (map or spreadsheet)
Polygon (multipoint) geofencing
Dynamic geofencing between assets
Emergency alerts
Two-way text messaging
I/O monitoring and control
Follow one asset with auto map scroll
Hot pursuit for real-time tracking
Administrative control of assets, users and groups
Access to server logs
Unlimited customer groupings
Complete privacy between groups
Take a video tour to quickly review the main features :
http://wiki.traksat.eu/doku.php?id=platform